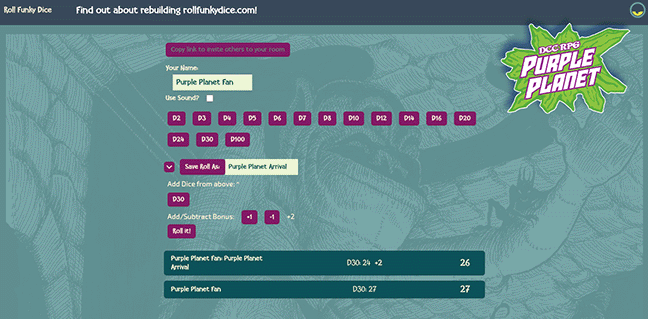 It's a vibrant gaming community in the realm of Dungeon Crawl Classics and Mutant Crawl Classics. Rollfunkydice serves that community through providing rooms where adventurers can get together online and see each other's dice rolls in real time, facilitating camaraderie across distances. Check out how it's being rebuilt for the Purple Planet!
Base Class Character Generator + Kith and Robot (from Die, Robot)

Players (and Judge!) will be able to generate characters in the room and use attributes on their rolls.

Initiative Tracker

Does the Halfling in your group never know when it's their turn? They've got some luck! Encourage your fellow adventurers to know when they're about to be called into action. 

Stored Game Session Data

You'll be able to store your character sheets either locally or in the cloud by having an account with Rollfunkydice. 
Follow with your email address so you'll know when this campaign starts!
By submitting your email address, you agree to receive news and updates about RollFunkyDice's projects.
Powered by
BackerKit Launch