KICKSTARTER IS NOW LIVE! CLICK HERE TO VIEW THE CAMPAIGN

KICKSTARTER IS NOW LIVE! CLICK HERE TO VIEW THE CAMPAIGN

KICKSTARTER IS NOW LIVE! CLICK HERE TO VIEW THE CAMPAIGN
The Broken Anvil Miniatures Team is proud to present RIVENSTONE, a brand new tabletop miniature skirmish wargame featuring highly detailed miniatures and thrilling tempo-based gameplay—launching soon on Kickstarter!
Our team of veteran artists, designers, and developers have poured their combined decades of experience and heaps of enthusiasm into the creation of Rivenstone over nearly two years, resulting in the game we've always wanted to play. Now, we're bringing it to you—the community we love—to enjoy and experience for yourself.
Every Faction Starter Box contains all the components you need to challenge a friend on the tabletop for just $99: rules, tokens and accessories, measuring tools, and a complete warband of high quality minis. The ready-to-play starter and low model count required for battle allows players to assemble, paint, and get to the table quickly.
While demo players have raved about the fast-paced and relentless fun of Rivenstone, it isn't just a game. It's an introduction to a fantastic new domain; the world of Venn. Our team at BAM HQ continues to expand Venn every day as we develop future releases, weaving together rich lore and creating compelling characters to connect players to Rivenstone beyond the tabletop.
═════════════◈═════════════
Ready to find your favorite Faction? Click the links below to read more about each one and how they battle their way across the strange lands of Venn.
═════════════◈═════════════
Rivenstone is an alternating activation, skirmish-style wargame. The rules are easy to understand and play, with loads of strategic depth to explore and experience on the tabletop. Reinforcement mechanics prevent a player from losing to attrition, creating a game focused on tempo based decisions and tactical planning instead.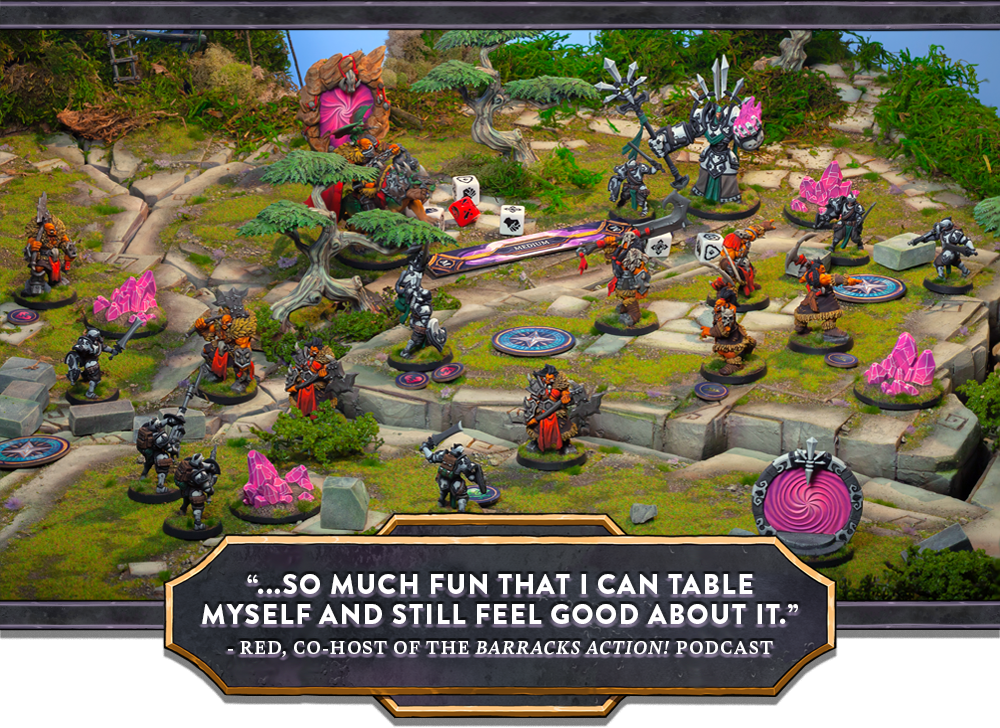 Want to learn more about Rivenstone's gameplay mechanics? Follow the links below to read our Lead Game Designer Will Hungerford's write-ups on everything from building your perfect warband to using event decks to shake up your game.
═════════════◈═════════════
We want to connect with you! Consider following The BAM Team on any of our socials below and stopping by to say hi. We'll be posting info about all the exciting upcoming local events, live streams, and more we have planned celebrating the Rivenstone campaign Launch Day and beyond!
Add your email address below before 4.26.2022 @ 12PM PDT to receive a FREE Mystery Gift when you purchase a minimum of one Rivenstone Starter Box via Kickstarter Pledge. You'll receive a confirmation email containing a link to the "Count me in!" button. Click it to ensure you're on the list to receive your free gift with your pledge!
*A MINIMUM ORDER OF ONE RIVENSTONE STARTER BOX VIA KICKSTARTER PLEDGE REQUIRED TO QUALIFY FOR FREE MYSTERY GIFT. GIFT WILL BE DELIVERED WITH REWARD DURING CAMPAIGN FULFILLMENT.