Segments and You
Kickstarter and Indiegogo crowdfunding project creators often decide to use BackerKit for our surveys, add-ons system and pledge manager platform, but creators often tell us that their favorite BackerKit feature is our segments tool because it saves them so much time during the fulfillment process.
Creators can use the tool filter backers by specific criteria to generate a segment of backers that they can then act upon with a variety of actions. Let's say that you need to create an order export list of all backers located in Europe for your European fulfillment house.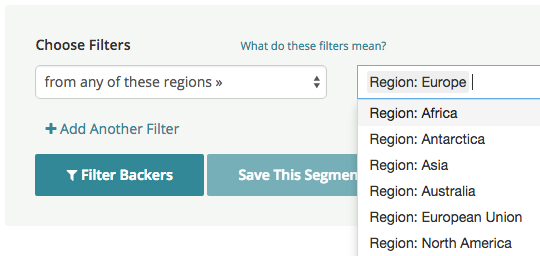 You can use segments to create a list of all backers with shipping addresses in the Europe Region and then export the file for your fulfillment center. You can perform this task in less than a minute using BackerKit segments and exports.
You can use multiple filters to generate a segment and we even have segment meta-filters that let you combine or subtract segments. Let's say that you want ship orders to Switzerland yourself instead of sending those orders to the fulfillment house. You can create a segment of Swiss backers for your DIY shipping and then create a another segment of European backers without Swiss backers for your fulfillment house.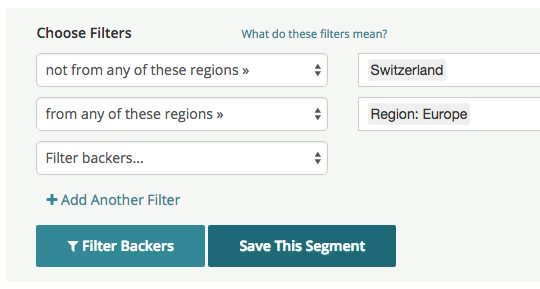 We've updated our backer segmentation filters to give creators even more ways to filter backers just in time for the holiday shipping season.  Visit our Backer Manager page or our segment filters help document to see a massive list of all 34 segment filters.
The list includes four completely new filters:
Backers not receiving any SKUs that are set to ship.
This filter will let you find all of the backers that are currently not set to receive any items.
Backers with funds added in BackerKit is more than or equal to ____.
This filter will find all backers that have added funds within BackerKit equal to or over the specified amount.
Backers charged in BackerKit.
These are backers that had their credit cards charged successfully in BackerKit.
Backers with pending charges in BackerKit.
These are backers that have submitted payment information but have not been charged yet in BackerKit.
Thank you to all of the project creators that came to us with complicated problems that prompted the creation of these new filters!
New creators, contact us if you want to know more about how segments can help save time while fulfilling your crowdfunding project or sign up now to get started.
Holiday Update
BackerKit offices will be closed for the holidays from December 24, 2015 through January 3, 2016. If you have an emergency, our staff will try to respond to you as soon as possible, otherwise we'll get back you when we return on January 4, 2016.