Inflection Point is the BackerKit blog series that studies crowdfunding campaigns to discover useful tactics for campaign creators. Subscribe to the BackerKit blog here.
Pascal Press: Truly Portable Coffee Press
Not all inflection points occur in the middle of the campaign. Nearly all successful projects line up backers prior to the campaign to ensure a strong launch day. Getting those early backers is crucial to your campaign because it's compelling social proof that convinces potential backers and influencers, such as blog editors, that your campaign is worthy of attention.
We asked Pascal Press creator Alan Kalbfleisch how he was able to raise 33% of his funding goal on the first day of the campaign and he shared his story with us.

Finding Your Audience Online
Online forums are a great place to find communities that might be receptive to your product. Alan participated in several tea, coffee and camping-related reddit subreddits to get feedback on his early prototypes. The posts proved popular generating plenty of upvotes and comments and "some of these posts can still be seen in the 'top' section for the most popular posts of all time on those subreddits."
Posting about products on reddit is tricky because you don't want to get banned for advertising. The larger subreddits are constant targets for astro-turf marketers that try to covertly drop brand mentions into the conversation, so community members are always on the hunt and actively call out any posts or comments that smell of self-promotion.
Alan advises creators to "make sure they do their research and participate in the subreddit before posting their own projects."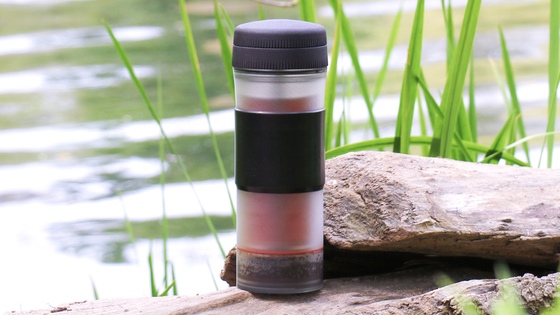 Navigating reddit
Each subreddit will have different rules and tolerance levels for product-focused posts depending on the moderators and the purpose of the subreddit.
Alan's first post on the /r/coffee subreddit was popular but the moderators asked him to stop posting there because "they wanted their forum to remain as just a place for coffee discussion and not a place for inventors or product developers to market their product."
Learning from his experience with the coffee mods, Alan made sure to reach out to the mods of the other subreddits he wanted to post on "to let them know of my intentions and to ask what I should or should not say in any of my posts."
After figuring out which subreddits were most excited about his coffee press and working out what's acceptable to post with the moderators, Alan started posting prototype updates asking for advice. "This built a sense of community around my product and got people very engaged and attached."
Alan actively participated in the community, asking for feedback, responding to comments and incorporating suggestions into the product prototypes such as adding a leakproof lid, which helped him earn several early fans. "Luckily, I had enough people following my posts that they began posting my website in the comments sections to get others to sign up for my email list."
Moving up the Ladder
Alan's success on reddit allowed him to get a few blogs to write about the Pascal Press. Approaching the press is a lot easier when you can tell editors that you have popular posts on /r/coffee or /r/campinggear. "This made it a very easy sell to get an article written as there was already proof that the product was popular."
Each blog post linked back to the product website which his team had set up to make it easy for visitors to navigate and sign up for the email list to be notified when the campaign starts.
The reddit community and the blog press coverage helped Alan build a sizeable list of people interested in the Pascal Press and several ended up backing the project: "Leading up to our campaign, we had an email list of about 1,000 people. We were able to convert 20% of those to sales within the first 48 hours of our campaign."
Building an email list of interested people ahead of launch is essential for any campaign that needs to extend beyond the friends and family network to get fully funded. To build this list, you need to have a website with an effective email sign-up form, and then find the right audience for your product.
Alan from Pascal Press was able to find an audience on niche subreddits and leveraged those discussions into blog coverage that helped get his product in front of even more people.
Venturing onto reddit isn't for everyone. Subreddit communities are full of knowledgeable members that will challenge you on every single detail. You can win over a lot of people if you can answer thoughtfully and use each challenge as an opportunity to demonstrate the care you put into every single design decision.