BackerKit started as a simple searchable list of backers (Kickstarter didn't have this feature in 2010).  We had zero idea if anybody would find it useful, let alone pay us any money for it.
We started by reaching out and talking to project creators to discover what they needed to build their dreams. It helped that we completed fulfillment for our Diaspora campaign, which overfunded by 2,000%, so we knew exactly what it felt like to be overwhelmed in a deluge of backer requests and campaign fulfillment obligations. We built BackerKit slowly over time, adding improvements as we learned from each backer and project creator that used our system.
That's why we're proud to announce that we have reached a major milestone: 1,000 crowdfunded projects! Every one of these 1,000 projects has left its mark, making BackerKit better for future project creators.
Cumulative Project Count by Month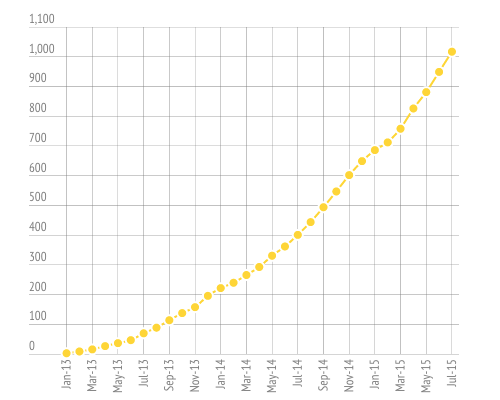 Our 1,000th project was the Expedition Edition Drawstring Backpack Mochibag from Mochibrand. If you missed out on the campaign, you can still order one through the pre-order store hosted on BackerKit. It's actually the second project that Mochibrand has managed using BackerKit. The first Mochibag campaign was our 97th project.
We thought it would be fun to share some stats on where we are right now, and here is to the next 1,000 projects!
Ten Largest Projects
The heavyweight projects have skewed our average backer count for each project upwards to roughly 2,000 backers per project. Our median number of project backers is 756 and one fifth of our projects have fewer than 300 backers.
Cumulative Backer Count by Month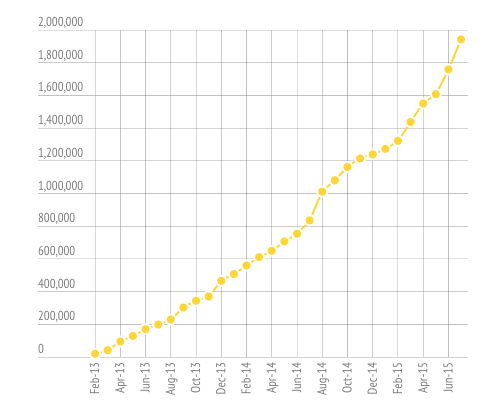 We're also approaching our 2,000,000th backer pledge processed which should happen in the next week or two. That's 1,962,466 backers surveyed and 1,788,379 shipping addresses validated (we don't need to collect addresses for digital-only rewards).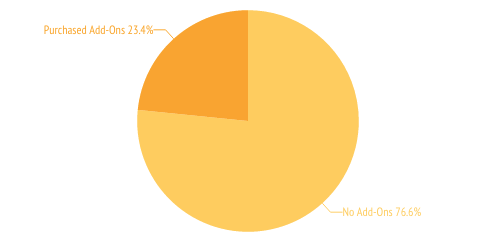 About 23.4% of backers purchase add-ons during the survey process. Our project creators have raised over $12,351,904 in BackerKit through pre-orders, pledge upgrades, and add-on sales which averages out to 9.1% in additional funding raised on top of the amount raised through the initial crowdfunding campaign.
Thank You, Creators
A lot has changed since we first started working on BackerKit three years ago. It's incredibly gratifying to see an increasing number of project creators sign up with BackerKit every month. This past July was our biggest month ever with 68 projects and 183,620 backers surveyed.
We're proud to say that the BackerKit platform has been battle-tested and tempered through 1,000 projects and almost 2 million backers.
We want to thank all of the creators that have trusted us to manage their projects over the years. We couldn't have built BackerKit into what it is today without your support.