Several weeks ago, the BackerKit team had the pleasure of visiting Indianapolis for Gen Con's semicentennial. In case you missed our post earlier this month, Gen Con is the largest tabletop gaming convention in North America and is attended annually by tens of thousands of fans.
Tabletop gaming's current renaissance is fueled in part by crowdfunding platforms like Kickstarter, Indiegogo and Ulule. With thousands of creators and backers set to attend Gen Con, we were stoked to come out and show our support.
With this in mind, BackerKit hosted a panel to discuss ways folks in the gaming world have tapped into their fan bases in order to grow creatively. We assembled some superstar panelists to talk about their experiences participating in and nurturing their respective fan communities.
One of the main takeaways from the discussion was just how much fans cared about the panelists' creative endeavours. Of the five creators on the panel, three had fans ask for them to be involved in marriage proposals in some way. In fact, the day before the panel, Kingdom Death creator Adam Poots witnessed a proposal at the Kingdom Death booth!
The creator-fan relationship is a two-way street. For example, Nick Nazzaro of Dragoon carries around gold sharpies so when he signs copies of the game, the signature will match the artwork. Nice touch!
Part of engaging with fans involves fostering communities where interest can grow. Maya Coleman, the community manager of Secret Hitler, highlighted the importance of engaging with fans in whatever space they feel most comfortable chatting, while Peter Vaughan of Breaking Games noted that this process can even mean stepping back to give the community more room to participate organically.
At the end of the panel, our panelists agreed that the most important thing for creators is to make every effort to keep diehard fans happy. Monikers creator Alex Hague used an analogy borrowed from the tech industry ("Do things that don't scale!") and encouraged creators to go above and beyond for their true fans at every opportunity.
For more valuable insights from some of tabletop gaming's most experienced creators, check out the full recording of the panel below.
BackerKit GenCon 50 Panel
Beyond the panel, Gen Con gave us the chance to meet up face-to-face with creators on the convention floor. Awesome BackerKat Hannah Manfredi had the chance to chat with some of these talented folks about crowdfunding, making games, and engaging fans.
Check out Hannah's interviews from creators at Gen Con!
We had an exceptionally awesome time at Gen Con this year! It's super amazing meeting creators "IRL," and it was awesome to see our creator friends in their element engaging with fans. There were a lot of sights to take in over the four day convention— check out the gallery below for a glimpse of the magic.
Check out BackerKit's photos from Gen Con:
https://drive.google.com/drive/folders/0B-v8gPUVpRQKNWFVeFJDYlpZSHM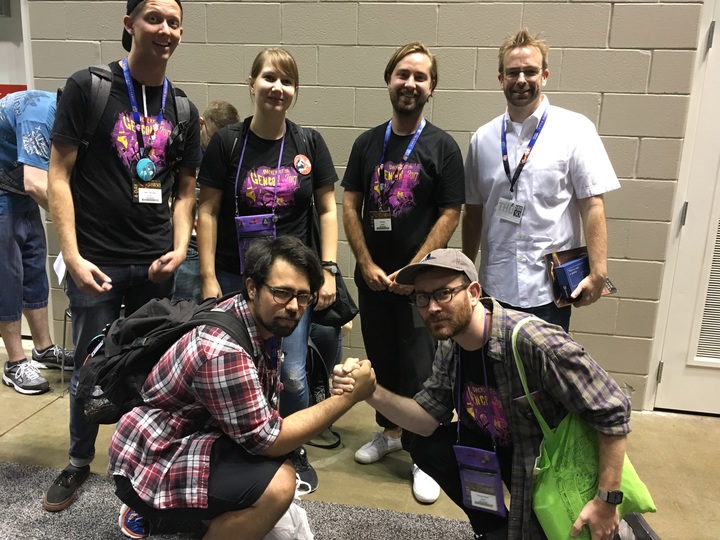 P.S. We want to give a special shout out to Nick Nazzaro, Creative Lead of Lay Waste Games, for designing some sweet BackerKit Gen Con swag! He truly is a wizard. You can check more of his awesome art on Twitter.   https://twitter.com/TheNazzaro