Keep Your Project On Schedule
Campaign management services can be divided into two categories: "front-end" services that backers interact with such as the backer survey and the "back-end" tools that the creators use to manage backer data and the overall fulfillment process.
After the project campaign ends, backers have a limited view of what actually goes on during the fulfillment process. They'll read a few project updates, answer surveys, and then packages magically appear on doorsteps a few weeks (or months) later.
Backers never see what goes on behind the scenes unless the creator shares stories about the fulfillment process through project updates. You can be all sunshine and rainbows in your backer communications up front while your fulfillment operation in the back is actually a hodgepodge of spreadsheets and broken dreams.
Here at BackerKit we want to make sure that all of our creators know exactly what to do to keep their projects on schedule and have the means to do so. That's why we built an entire suite of back-end tools to help creators manage backers and get them to shipped status.
Backer Dashboard
The Backer Dashboard gives you an overview of where all your backers are in the entire process.
We accomplish this by using backer status levels such as "Survey Not Answered" or "Ready to Ship." You'll be able to see the progress of all of your backers and have the ability to drill down at each status level to see available actions and information on what needs to be done to move each backer group forward to the next status level.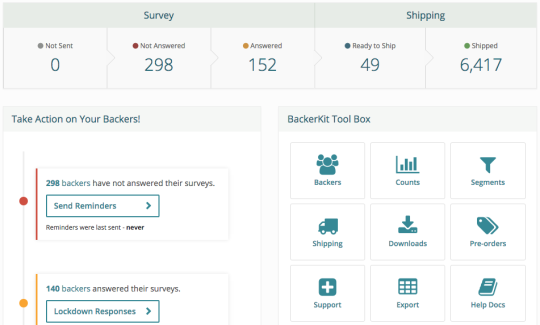 For example, if you view all backers that haven't answered their surveys yet, you will have the option to send survey reminders to the entire group. For backers that have answered surveys, you can lock down their responses to freeze item counts for manufacturing, charge credit cards to collect payment for add-ons and upgrades, and finalize shipping addresses to mark backers as "Ready to Ship." You can perform all of these actions on entire status groups to save time.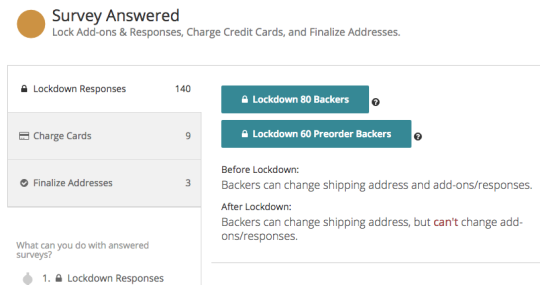 Once backers are ready to ship, you can use our export tools to pass the data to your shipping fulfillment partner or print out the packing slips if you're doing the shipping yourself. You can even use BackerKit to purchase USPS postage and batch print shipping labels. You can batch upload tracking numbers with a CSV file or import them directly from your fulfillment partner and we'll send out shipment notifications automatically.
Backer Profile
Every project has a profile page for each backer where you can view and edit the backer's order information and perform actions to move the backer up or down a status level. For example, if a backer is in "Locked Down" status, you can move them forward by finalizing the shipping address or move them back a step by unlocking the order.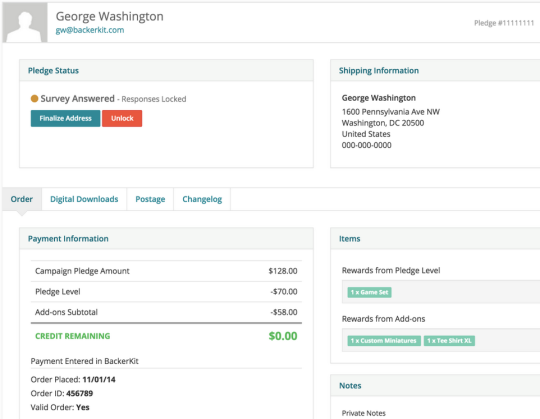 Over two million backers have gone through our system and we've seen every kind of support request imaginable. We've built everything you need to provide excellent customer service for your backers.
Project administrators can edit personal information such as the backer's name, shipping address, and email address. Admins can also edit the order contents, pledge levels, add-on items, and add complimentary credit or refund orders made in BackerKit. You can save notes on each backer account and view backer changelog histories to get up to speed on each backer quickly.
Backer Search
Creators can use the backer search function to find backers easily. It sounds like a simple feature but project creators didn't have the ability to search through their backer list when Kickstarter originally launched.
Backer search is the very first feature we built for BackerKit and we've continued that strategy of filling in the post-campaign fulfillment service gaps ever since we published that first tool. BackerKit has grown to the point where it really has become the missing back-end for your crowdfunding campaign.
Contact us if you're worried about the fulfillment process, or sign up now if you're ready to take control of your project!