The fulfillment phase is a sticking point for many project creators, especially if international backers are involved. The majority of crowdfunding campaigns on Kickstarter and Indiegogo are based in the US, where shipping within the country is relatively cheap compared to cost of mailing items overseas. However, if there are backers in the EU, shipping bulky or heavy items can cause costs to skyrocket.
Many crowdfunding projects feature the EU-friendly seal with the hopes of attracting more international backers but first-time project creators may not fully grasp what 'EU friendly' means in practical terms for their campaign.

What Does 'EU Friendly' Mean?
Mentioning EU-friendliness on the project page — in the shipping section, pledge levels, and near the page header — will make it clear that there will be no hidden costs or nasty surprises for backers. This is a compelling offer for EU backers because the usual process of ordering goods from overseas is a minefield of exorbitant shipping fees, customs fees, and taxes that make the final cost prohibitively expensive.
Andvaranaut, a backer from Spain and champion of the EU-Friendly movement, breaks down what costs are incurred when project creators ship packages to European backers from the US. He uses himself as an example, a backer at a $40 pledge level. In his hypothetical scenario, a project creator could ask the backer for an extra $10 for shipping, while subsidizing the other $10. The package is then sent with a declared value for $50. When the package is shipped, it will be inspected by customs, then subject to two levies — a 21% value-added tax ($10.50) and a fixed administrative charge of ($23). The backer is then expected to pay the total of these charges upon delivery.
In other words, a $40 reward pledge ends up costing the backer $84. It also comes at significant expense to the project creator, who has subsidized shipping costs at a steep discount. Andvaranaut adds that the declared value of packages should reflect the total amount paid for the item (including manufacturing, shipping, insurance, etc) rather than the manufacture value. If this total exceeds €22, the backer will have to cover all of these costs.
Creators can minimize these fees and taxes by warehousing and shipping product within the EU. It's more cost effective for backers because goods will have already cleared customs and paid VAT at the port of entry. It adds complexity for the creator because they have to pay the VAT and arrange for warehousing.
The Dragoon Experience
For the team at Lay Waste Games, the question of whether their project was EU-friendly seemed like a no-brainer. "We were like, 'We like people from Europe, we're super-friendly to the EU'," art director Nick Nazzaro says.
But they soon realized the designation was more than a state of being. "It requires having a warehouse in Europe and having goods shipped there," says operations director and product designer Jonathan Ritter-Roderick. "It makes sense with a fulfillment company, but because we didn't have one, we couldn't be EU-friendly."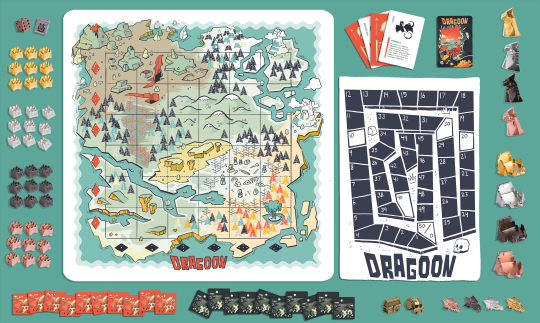 In 2015, the team at Lay Waste Games successfully launched Dragoon, their first tabletop game, on Kickstarter. While the team easily surpassed their funding goal of $9,000 — 1,295 backers pledged a total of $88,020 — they say there were plenty of valuable lessons to be learned from their first campaign, particularly about international shipping and EU-friendly campaigns.
For game-makers, the EU is a huge market. Board games are popular throughout the region, and the prevalence of board game conventions and fairs makes it an important source for backers.
"Being EU-friendly is a big deal to a lot of gamers who aren't in America or the ones that are in the EU,"  Nazzaro says. "It's very important. People asked us if we were going to be EU friendly — and we definitely were not."
Pick Your International Shipping Strategy
Shipping from within the EU — as opposed to sending items to the EU from the US — has clear advantages for project creators. Goods will have already cleared customs and paid VAT at the port of entry, which reduces costs and makes the shipping process swifter. On the other hand, shipping to the EU from the US or elsewhere will incur import duties, taxes, and other fees that typically result in backers bearing the cost.
Project creators who choose to ship from within the EU typically partner with in-country or region-specific fulfillment centers like Amazon.de, Nift, and Spiral Galaxy, to name a few. Working with a fulfillment center is less less time-consuming than fulfilling orders manually.
Some project creators may choose to offer free worldwide shipping. Jamey Stegmaier of Stonemaier Games offers a comprehensive guide on how to make this happen. Some key tips include limiting the number of add-ons for international backers and calculating reward prices so that they accurately reflect the cost of shipping.
Stegmaier also recommends obtaining exact quotes for your campaign to accurately gauge costs. Project creators should have a quote from the manufacturer of their product (including the cost of trucking from the factory to port), the freight shipping company, and the fulfillment partner.
European buyers comprised less than 20 per cent of Dragoon backers, but the team is determined to broaden their appeal to a global audience. For the next crowdfunding project, Lay Waste Games has plans to offer worldwide shipping by working with four fulfillment companies.
"We're going to have a partner in Canada, Australia, a worldwide company and a US-based company," Ritter-Roderick says. "It will make the experience so much better for the customers, so they can more affordably get what they want and more assuredly get they want."
Calculate Your Shipping Costs Accurately
Delays in the manufacturing process can lump additional costs on project creators. If items don't arrive at the fulfillment center on time, they may have to be shipped by air to overseas backers rather than by boat. Nazzaro says this risk can be mitigated in the first instance by making sure optimal reward prices are set for your product.
"It's probably more risky and dangerous to price it too low because there's all sorts of costs you will never anticipate without doing a ton of research," he says. Higher reward prices offer a buffer in case any road bumps arise. A switch from boat shipping to air shipping, he says, can multiply overseas shipping costs by a factor of 10.
Custom Duties, VAT, and Unhappy Backers
No one likes nasty surprises — especially not backers. However, the path to fulfillment is fraught with potential setbacks.
If shipping to backers in EU countries, import taxes, customs duties, brokerage fees and a 21 per cent value-added tax should be factored into pledge tiers and the total funding goal of campaigns. (Remember that the total cost of shipping may vary within the EU itself.) If you don't, you risk aggrieving backers, who are likely to wear the costs of an ill-executed EU shipping strategy.
Remember to account for size and weight when packaging your product. In the EU, for instance, flat rates on shipping only apply to items under three pounds. Ritter-Roderick notes that size is another important consideration when calculating costs, as well as whether you decide to use pallets (some countries specify plastic over wood).
Failing to tick these boxes can dent the positive sentiment and goodwill established between project creators and their financial supporters. Honesty is the best policy: don't overpromise and underdeliver. Set realistic expectations, particularly when it comes to expected shipping dates for foreign backers. If things go awry, keeping backers updated about delays, manufacturing mishaps, or miscalculated costs is crucial.