Sending surveys is easy. The hard part is collecting information, getting backers to respond, making sure that everything is accurate, organizing it into useful formats, and keeping it all up to date.
Surveying is like jumping out of a plane: "It's not the fall that kills you, it's the landing."
Here are some considerations to keep in mind when deciding on your backer survey strategy.
Is Collecting Information Easy?
Kickstarter creators can use Google Forms or the Kickstarter survey to gather backer information. Indiegogo project creators are in a tougher position because the Kickstarter survey isn't an option for them. It's either cobble together a free solution or work with a company like BackerKit. As we mentioned earlier, sending out surveys is easy. Collecting the data is where it starts to get difficult.
The main drawback with free surveys is that responses aren't malleable after they're submitted. If backers want to change answers, you'll need to record each change separately and merge it with their original responses on your own. You also don't have an easy way to recover if your survey has a mistake. You'll need to fix the error, cajole backers into answering another survey and then deal with the headache of combining two sets of responses. This means that you'll be buried in spreadsheets.

With BackerKit, each backer gets their own individual survey and we store every single response. If you make a mistake on your survey, you can correct it mid-flight and backers will be able to return to their surveys to update their answers. Your data will update automatically.
How Do I track Survey Responses?
All of the services can send an email to each backer but this doesn't guarantee that you'll get a response from each backer. If you use a free survey tool you'll need to maintain a spreadsheet to keep track of who has responded and who hasn't so you'll know which backers you need to track down. You can imagine how tedious this chore becomes once you have several hundred, nevermind, several thousand backers.
Backers will also do things like submit multiple form responses "just to be safe" or as an attempt to update their previous responses. Guess who gets to dive back into the spreadsheet each time a backer submits a response? The Kickstarter survey is better because only backers can submit a single response and it's limited to backers only. It's a little harder to keep a public survey secure, so you might have to weed out bad responses if you're using a free form.
For the free forms, you'll also need to ask backers to provide identifying information like email addresses just so you can match them up with your backer list. You can't count on backers to enter in the same email address as their Kickstarter or Indiegogo address, so you'll have to sleuth around and compare names and pledge reward answers to figure out who they are on your backer list.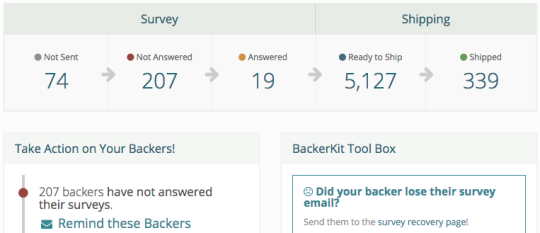 BackerKit provides a backer management system that lets you track the status of every backer. You can see how backers are moving through the system from your dashboard and you can drill down by backer status to see all backers within each level, if you want to see all of the backers who haven't answered surveys for example.
We also provide tools like auto-reminders to send out follow-up emails to backers to get them to answer their surveys and shipping address validation to make sure that packages reach the correct destination.
How Can I Organize the Data?
The whole purpose behind surveying backers is to figure out how many items you need to manufacture and to assemble order shipment information for each backer.
If you use free tools, such as Google Forms or the Kickstarter Backer Report, you could export survey responses as a CSV spreadsheet. But you'll likely need to parse the responses to clean the spreadsheet data and tally the final item counts for your manufacturing orders. Then you'll need to spend time copying and pasting the data to get each backer order suitable for shipping fulfillment.
BackerKit provides filtering and data export tools that will let you format your data in multiple ways to meet just about any need. You will have all of your data in one place and you'll be able to shape it and export it with a few clicks.
How Do I Keep Information Up-to-Date?
Backers change addresses, they change their minds about reward selections, they want to update their payment information, and they'll all contact you when they want to make those changes.
You'll need to track backer updates after survey responses have been submitted. Keep those spreadsheets ready and budget time each day to handle those upkeep chores. As you get closer to manufacturing and shipping, you may need to update item counts and verify shipping addresses for individual backer orders too.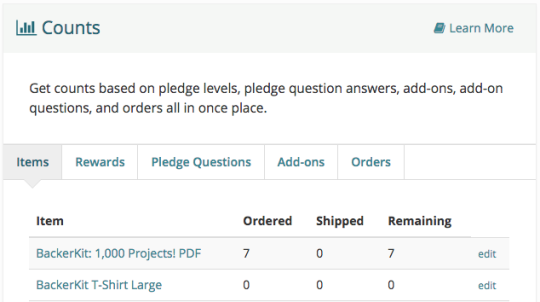 With BackerKit, Backers are able to edit answers any time before you lock down surveys. They'll be able to perform those tasks on their own, saving you time. You can also attach items to each answer to make item counts instantaneous in BackerKit. If a backer changes a reward selection, your item counts will automatically change along with it.
Choose Your Landing
Simple surveys and spreadsheets have their place. You'll reach the limits of what one person can handle with a free survey tool and spreadsheets at around 200 backers. Once you pass that point you either have to throw more labor at the problem or go with a campaign fulfillment software solution like BackerKit.
Check out our Survey features to find out more about our surveys and try out a demo.