At BackerKit, we're constantly talking to project creators. One conversation that we have with crowdfunders centers on the uncertainty that greets them upon finishing a fundraising campaign. Just about every first-time project creator is puzzling over the same question:
"Can I do it all myself?"
It's not a question to take lightly, especially when there is a small army of backers waiting for you to deliver on your promises. There's no shortage of crowdfunding projects that have collapsed under the pressures of the fulfillment process (the most recent sad story involves a project literally going up in flames because of fulfillment errors).
An efficient fulfillment process is important for your project. On the other hand, you don't want to pay for services you don't need.
To learn more about crowdfunding fulfillment, we've made phone calls and paid visits to crowdfunding project creators, where we've helped print labels and fill USPS cartons with rewards. And we've made many changes to our software to better accommodate the the workflow of crowdfunders.
But to get a glimpse of the larger picture, we recently took a poll and asked a wide variety of crowdfunded projects—both large and small—what kind of tools they were using to fulfill their projects.
Many projects responded, and the results are in: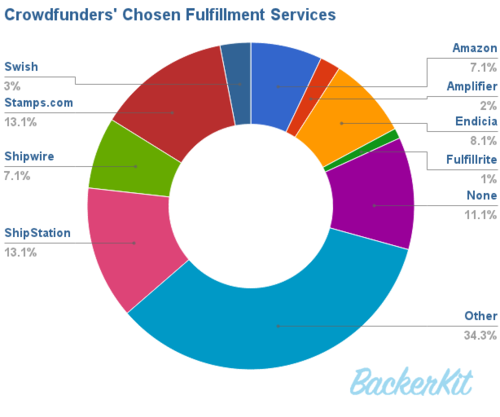 The takeaway: almost 90% of crowdfunded projects used some kind of fulfillment service or software to help them ship their rewards.
ShipStation and Stamps.com are the clear favorites for DIY crowdfunded projects—over a quarter of all projects used their software.
Both these services, along with Endicia, are popular choices because they provide tools to help DIY makers receive discounted shipping rates, print shipping labels, and aggregate orders. But despite their popularity, many project creators in our poll reported frustrations when utilizing these tools.
For larger crowdfunded projects, which need more help with the fulfillment process, the most popular choices were Shipwire and Amazon.
These full service fulfillment houses store all your goods in large warehouses, receive your orders, then pick, pack, and ship your rewards for you. If you are a project creator who has thousands of orders to fulfill, and a lot of international shipments to make, a fulfillment house makes a lot of sense. Though Shipwire and Amazon came out on top, there are dozens of fulfillment houses that offer similar services, as well as many geared toward individual industries (i.e. tabletop games).
In our poll, crowdfunders also told us all about many surprising hassles they encounter while navigating different fulfillment services. We're excited to work on eliminating these problems.
Here's what we've done so far:
If you want to mail your rewards yourself, we're now fully integrated with ShipStation, so you can send your orders directly from BackerKit with the click of a button.
If you have a larger project that requires complete fulfillment services,we've already integrated with Fulfillrite, a fulfillment house that we've found to be especially attentive to crowdfunded projects.
We're also starting beta Shipwire integration—please contact us if you are interested in trying it out.