We're happy to announce that we've upgraded our BackerKit digital downloads system! The new version makes it easier to upload and distribute digital rewards to your backers.

Here's a quick walk-through of how to set up a digital reward distribution using the new system.
Create a Digital Reward
Log into your BackerKit account, click on the "Digital Rewards" link in the left-hand menu and then click on the "Create a New Reward" link.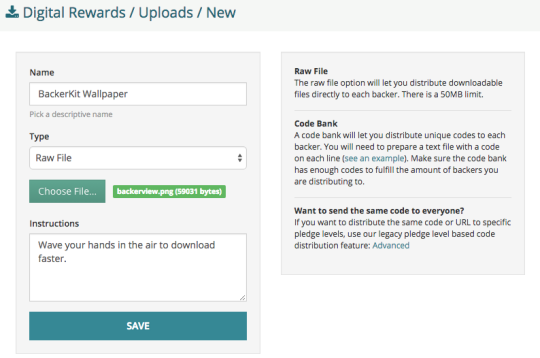 The digital reward can be a raw file or a text file code bank. The raw file option will let you distribute files directly to each backer. The code bank will let you distribute unique codes such as Steam keys to each backer. You have the option to add instructions for each reward to let your backers know what to do with the digital reward that they receive, if they have to redeem a code at a specific URL for example.
Create a Distribution Rule
Next, create a distribution rule that will associate a specific SKU to a digital reward.

You can decide whether backers can get the reward right away or require the order to be locked down and paid for before the backer can download the reward.
Distribute the Reward
Click on "Distribute" to activate the distribution rule. This will place the digital reward on the backer's digital download page at the end of their BackerKit survey. If you enable the lockdown/payment option, you need to lockdown orders and charge cards before the digital reward can be distributed.

Once a distribution starts, the reward will automatically be distributed to any backer that purchases the reward afterwards, so you don't have to worry about distributing the reward to new backers that sign up late. If lockdown/payment is required, new backers will not receive the reward until order are locked down and payments are collected.
BackerKit will send out a notification email to your backers to download new digital rewards once you distribute a reward. If you distribute multiple rewards on the same day, we will send one notification email that will tell backers that multiple rewards are now available for download.
Manage Your Distribution Rules
You can add more codes to a code bank or undo a distribution from your management options. If you have distributed a file on accident and wish to un-send it, hit "Undo Distribute." This will remove the file or code from the survey page for all backers that have this digital reward. If you need to remove the reward from an individual backer, you can do that by going to their backer profile page.
If you have a code bank that is running low or empty, you can upload another code bank file and it will add the new codes to the existing code bank.
The new digital downloads system is available for use immediately. We're still making a few design tweaks, so the page layouts and forms may differ slightly from the screenshots you see here.