On-Site Packing Party
Last week we visited our friends (and longtime BackerKit customers) Jason Hui from Prometheus Lights and Joe Wu from Scout Leather Co. for a packing party for the BRNLY SlingPop: Pocket SlingShot and Bottle Opener.
Jason and Joe have six successful crowdfunding projects between them and they've started working with other creators to help bring their projects to life.
They worked with Lucas Burnley of Burnley Design on the SlingPop campaign and handled manufacturing and fulfillment for the project. The SlingPop was a huge success, meeting its $5,000 funding goal in a single day and the Kickstarter campaign finished with 369 backers and $45,934 total funds raised.
Operation SlingPop
Our entire San Francisco office drove down to Jason's shop in Mountain View to help pack boxes and prepare orders for shipment. We love working on-site with creators because it's a great learning opportunity for us. They can ask questions and point out issues as they're using the software which helps us identify areas to improve.
Most of our team started the day making boxes and folding the SlingPop towels, while the rest of the team gave Jason and Joe a short refresher on how to use BackerKit Postage. Joe got the hang of it quickly and started printing labels like a pro.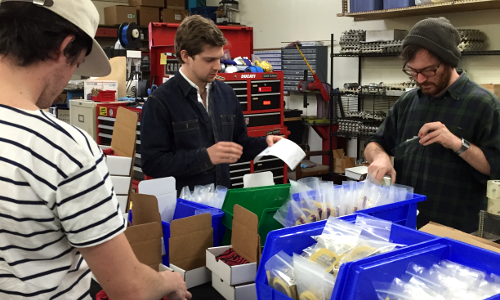 The team used package groups to print out batches of orders that all contained the same items to accelerate the packing process.
Joe's apprentice, Han, organized items into separate bins and quickly moved bins around to make sure that we had the right items at hand for each package group.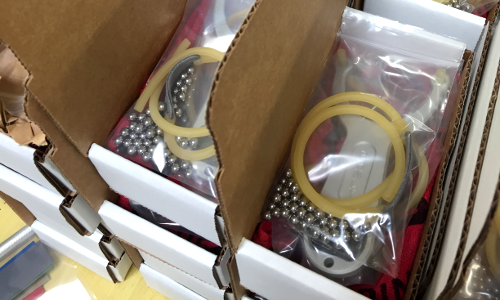 When you know that the next 80 orders all have the exact same contents, you can blaze through them quickly because you don't have to pause to consult the packing list while picking parts for each order.
After spending the entire morning packaging SlingPops, several of us were itching to give the slingshot a try. We took a break after lunch to plink some cans and then finished up most of the orders by the early afternoon.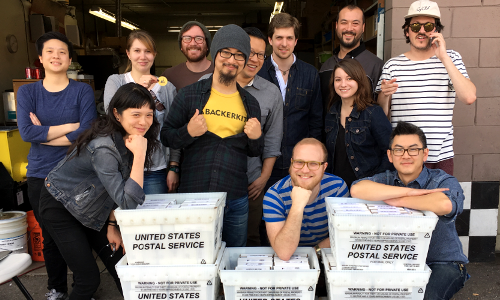 Big thanks to Jason, Joe, Han and Lucas for having us over!
These outings help our team experience what fulfillment is like for creators using our service. It gives us a chance to walk in their shoes and see how we can make the entire process better for them!